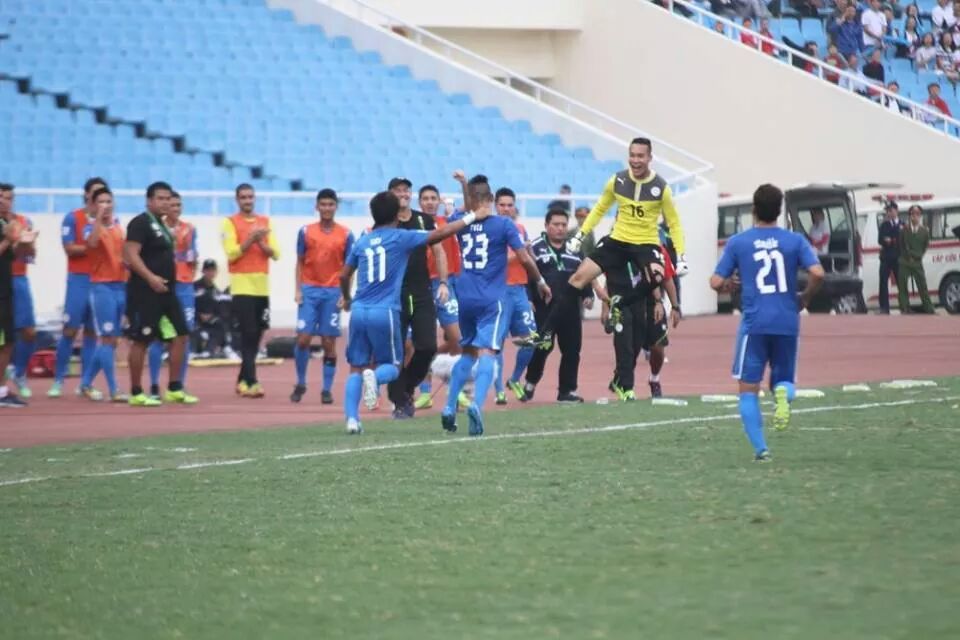 The Azkals celebrate after Simone Rota scored the equalizing goal late in the
first half. PinoyFootball.com
By Ivan Saldajeno
The Philippine Azkals bucked a shock opening goal from Laos to begin their campaign in the AFF Suzuki Cup with a 4-1 win in Hanoi, Vietnam.
Khampeng Sayavutth put the Laotians up with a free kick that went over the wall and past Patrick Deyto in the 21st minute.
The Azkals, however, had a quick chance to tie the game as a defensive miscue drew Mark Hartmann closer to the goal.
But a Laotian player cleared the ball out just as it went to the line.
Simone Rota finally tied the match with his header off a corner kick in the 36th minute.
Phil Younghusband put the Azkals for good just before halftime with his 41st international goal.
Patrick Reichelt delivered off the bench in the second half as he infused instant offense for the Azkals.
Reichelt's efforts were rewarded as he struck two goals in the 77th and the 88th minutes respectively for the final tally.
This is the Azkals' largest blowout win in the Suzuki Cup, and their four-goal tally matched the total number of goals they made in their previous appearance in 2012.