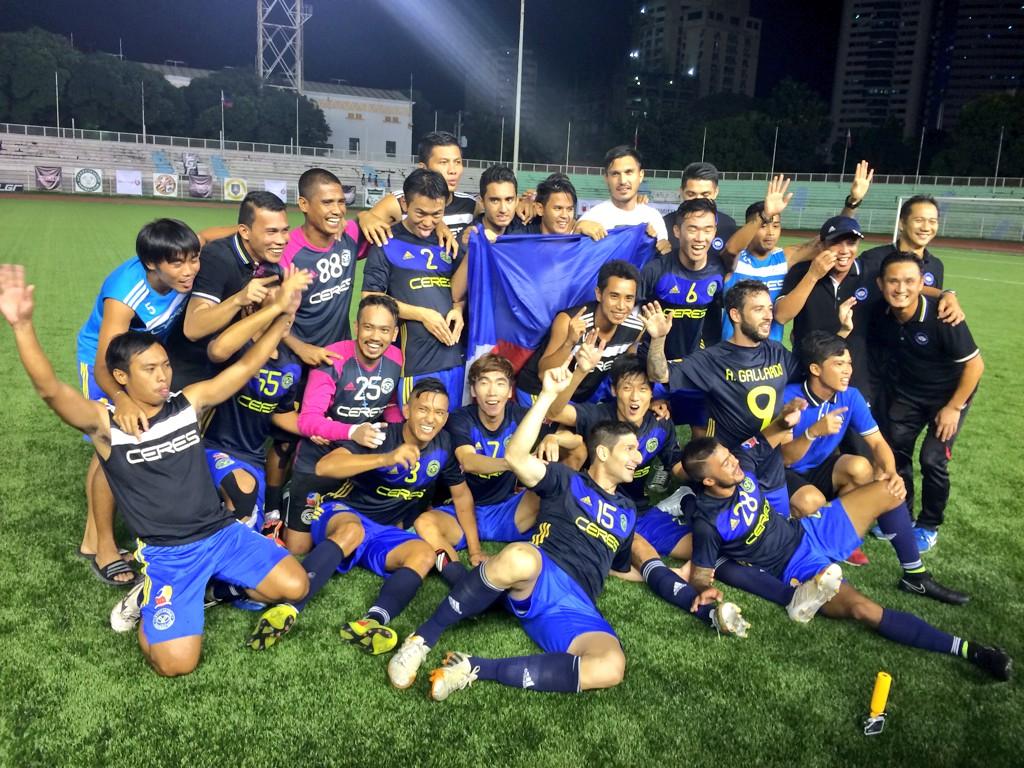 From UFL's Twitter page
By Ivan Saldajeno
Ceres survived an early injury scare from Carlie De Murga and a red card against Juani Guirado to depose Global, 2-1, in the championship game of UFL-FA League Cup at the Rizal Memorial Football Stadium in Manila City.
De Murga fell down on what appeared to be a knee injury at the seventh minute of the game, while Guirado was sent off after for his part in a short-lived fracas in the second half.
But first half goals from Kim Jin-Ho and Adrian Gallardo and a late defensive stand proved vital in the newly-promoted club's latest championship conquest.
Kim fired Ceres' first goal just 45 seconds into the match, while Gallardo duplicated the feat at the 22nd minute, putting a lot of pressure on Global.
Mark Hartmann tried to put Global on the board before halftime.
But Ceres' defense held on, and Guirado got a touch of the ball and cleared it out.
Hartmann, however, scored for Global at the 69th minute after getting the feed from Misagh Bahadoran and shot the rocket goal.
Kim Sang-Min collided with Patrick Deyto while trying to score another goal for Ceres. Players from both squads got entangled while those from Global tried to help Deyto.
Kim was cautioned, while Guirado, who already had a yellow card earlier in the match, was shown his second and was sent off.
Bahadoran immediately took advantage of the undermanned Ceres lineup as he fired two attempts.
Bahadoran, however, misfired on those two occasions as Ceres looked to hold on.
But Hartmann had one last scare for Global as he got into the box with a huge chance to score.
But Michael Casas pulled the pivotal defensive gem as he saved Hartmann's attempt, sealing Ceres' win that gave the club its fourth title since winning back-to-back Smart-PFF Club Championships and the UFL Second Division plum.