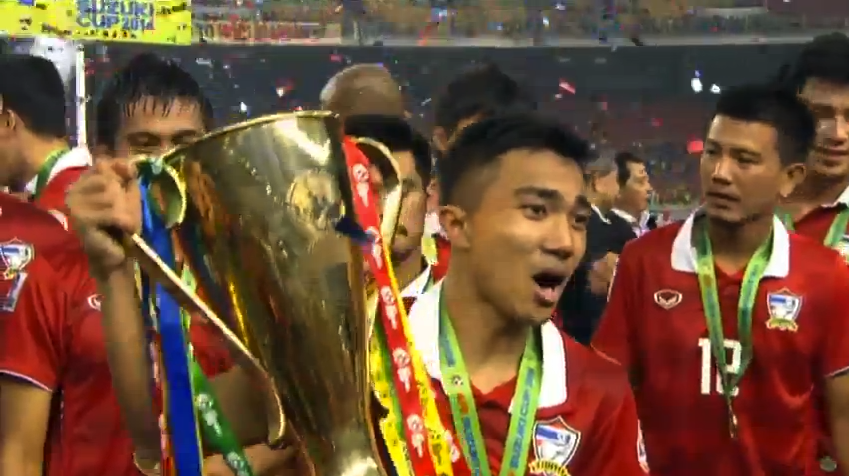 Suzuki Cup MVP Chanathip Songkrasin holds the championship trophy for Thailand,
which ended a 12-year wait for the title. From the AFF Suzuki Cup's Twitter account
By Ivan Saldajeno
Just when all hopes were lost, Thailand converted goal that mattered the most in the end.
Charyl Chappuis and Chanathip Songkrasin fired two late goals in a span of ten minutes to give the Thais their fourth AFF Cup championship despite losing to Malaysia, 2-3, in the second game of the finals series of the tournament sponsored by Suzuki in Kuala Lumpur.
Thailand blanked Malaysia, 2-0, in their first meeting in Bangkok on Wednesday, and with the two late goals, Thailand took the aggregate win, 4-3.
The goals of Chappuis and Songkrasin turned out to be the heartbreakers for the soldout crowd in the Malaysian capital as the Malaysian fans thought their team pulled off another huge comeback just like in its previous playoff series against Vietnam.
Safiq Rahim fired the Malaysians' first goal of the match off a penalty in the sixth minute after the referee called an intriguing foul on a Thai player inside the box.
Adisak Kraisorn, however, got a huge chance for the equalizer as he got a couple of attempts that just went wide later in the first half.
The game became physical in the next juncture of the half as two Malaysian players saw yellow for their rough fouls.
But Indra Putra lighted up the Malaysian scoreboard anew as he drilled in a header off a cross to completely cancel Thailand's 2-0 Game 1 scoreline at halftime.
Then 13 minutes into the second half, Rahim fired a free kick that went high above the wall and past Kawin Thamsatchanan to put Malaysia ahead in aggregate score, 3-2, to the delight of Prime Minister Najib Razak, who watched the game.
But with a little over nine minutes left in the match, Chappuis got the loose ball off a saved free kick and found the net to give Thailand the needed away goal that earned the team the tiebreaker.
Then Songkrasin delivered the dagger in the 88th minute by getting past the Malaysian defense and drilling the shot home, silencing the previously loud Malaysian crowd.
Thailand now ties Singapore as the winningest teams in the AFF Cup history while ending a 12-year title drought.
Songkrasin was hailed as the MVP of the tournament, earning for himself $10,000.
His team, on the other hand, received $100,000.