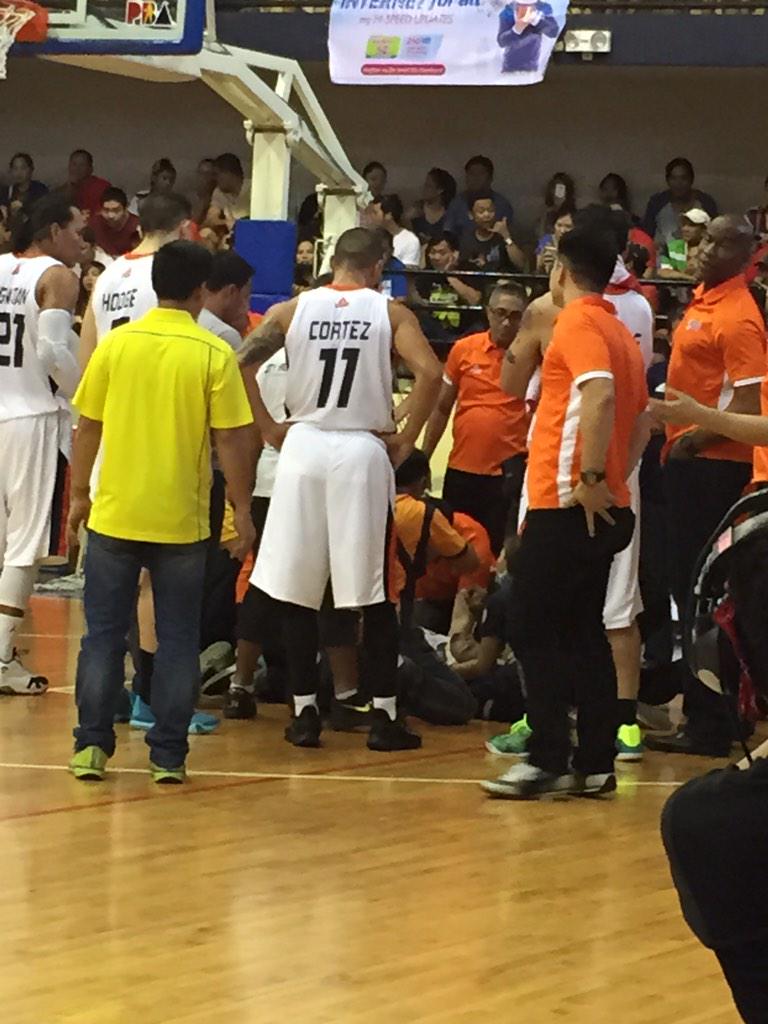 The Meralco coaching staff attends to Josh Davis
after he suffered an injury. PBA
By Josh Castro
CAGAYAN DE ORO--San Miguel finally nails a win, and it happened by finally giving its opponent a loss.
The Beermen snapped the Meralco Bolts' five-game winning streak with a 102-86 victory in their PBA Commissioner's Cup match at the Xavier University Gym on Saturday night.
San Miguel took advantage of the loss of Josh Davis as it fought back from a first half deficit and pulled away for good in the second half.
Davis hurt his buttock after colliding with Junemar Fajardo with 7:11 remaining in the second quarter. He remained at Meralco's dugout and did not return.
Another incident took place later in the game as Chris Ross and Gary David entangled after the latter was slapped with a flagrant foul penalty 1. Ross, who did not like the foul, was called for a technical foul for second motion.
Still, the Beermen prevailed as Fajardo and new import AZ Reid joined forces in the rout.
Reid led San Miguel, which also saw its four-game losing streak coming to an end, with 29 points, 12 rebounds, and three assists, while Fajardo added 21 points, 22 rebounds, two assists, one steal, and one block.
David scored 23 points and added three rebounds and one steal off the bench for Meralco.
Box Scores:
San Miguel 102 - Reid 29, Fajardo 21, Ross 16, Santos 12, Lutz 9, Kramer 8, Cabagnot 5, Lassiter 2, Reyes 0, Tubid 0, Omolon 0, Fortuna 0
Meralco 86 - David 23, Wilson 9, Hodge 9, Hugnatan 9, Anthony 8, Dillinger 6, Cortez 5, Sena 5, Davis 4, Ferriols 4, Reyes 2, Macapagal 2, Ildefonso 0, Atkins 0, Buenafe 0
Quarterscores: 20-25, 45-40, 73-60, 102-86