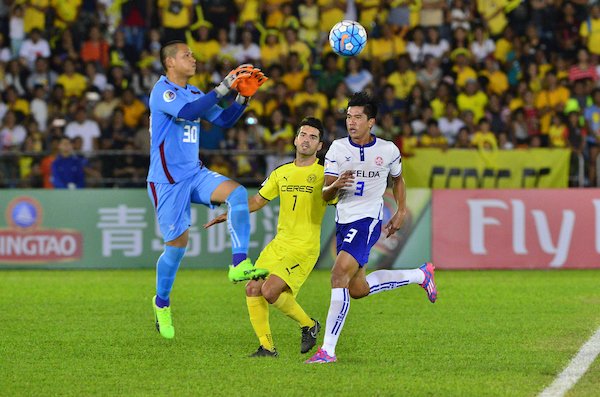 Ceres Negros and FELDA United will settle for a stalemate after a wet and wild encounter in Panaad (photo by AFC/Lagardere Sports)
By Kevin Estrada
MANILA
--
Ceres Negros concluded their two-week homestand on a stalemate to remain on top of Group F on Wednesday night at the Panaad Sports Complex in Bacolod.
The Busmen were forced to share points with Malaysian debutants Felda United in a wet and wild match that ended in a goalless draw in the rain-soaked Negrense pitch in which Roland Muller and Farizal Harun made themselves big in between the post for their respective sides.
Felda were more active on the ball, outshooting the home side by four and had intercepted it three more times, with Ceres not far behind by keeping the ball more than the Fighters.
Muller made himself big in 61st minute, preserving the scoreline by denying Lucas Cano's spot kick, negating the run by Norshahrul Idlan Talaha that got Jeffrey Christiaens and Martin Steuble before OJ Porteria clipped the Malaysia international inside the box.
The draw meant that Ceres retains hold of the Group F pole on goal difference despite Hanoi's 4-0 beating of Tampines Rovers in the Vietnamese capital earlier in the day that got them tied at five points after matchday three.
Follow him on Twitter:
@KevinLEstrada