By
Ferdin Sanchez
After
its successful launch last April 21 at Shangri-La Fort
, the Philippines Football League (PFL) is set to raise the curtains of the first professional national football league in the country
with a slew of mouthwatering matches this weekend.
PFL's opening weekend will definitely bring back memories of the old rivalries from the now-defunct United Football League (UFL) – the most notable of which is the clash between KAYA Makati and Ceres Negros – and an interesting clash between newcomers Ilocos United and Davao Aguilas.
Let us look at the matchups and predict how each club will fare in their first taste of PFL action.
(Kick-off of all matches is at 4 PM)
MAY 6
Kaya FC Makati vs. Ceres Negros
University of Makati
The spiritual home of PH Club football will host the first match of the PFL, as Kaya looks to defend UMak against Ceres. (file)
Fresh from an impressive performance in the AFC Cup group stages which earned them a spot in the ASEAN zonal semifinals, Ceres Negros would surely look to continue its scintillating form when it faces a hungry Kaya Makati side.

Having beefed up its roster in the offseason highlighted by marquee signings Simone Rota (from Stallion Laguna), OJ Porteria (from Kaya Makati), and Omid Nazari (from Global Cebu) among others, coupled with the much-awaited comeback of Stephan Schröck, the Busmen are the clear title-favorites this early and the Makati boys must be at their best to be able to have a chance a stopping them.

Kaya, on the other hand, stuck to the core of its team that brought an underwhelming fifth-place finish in last year's UFL, with playmaker Louis Clark the only notable omission in the lineup. However, the signing of goalie Ref Cuaresma and Angeles twin brothers are welcome additions to an already-potent squad.

If Ceres' recent form, which included a 6-2 thrashing of Hanoi and a 9-2 aggregate score over two legs (5-0 and 4-2) against Tampines Rovers, is any indication of how they will play tomorrow, Kaya needs to be at tip-top shape if they plan putting up a fight.

Prediction: Ceres will take this and silence UMak. 2-1 to the Busmen.

Stallion Laguna vs. Meralco Manila
Biñan Football Stadium
Fresh from the Invitational Cup final, Stallion Laguna and Meralco Manila are locking horns once again in Biñan. (file)
Just recently, these two teams went head-to-head in the finals of the 1st Stallion Invitational Cup at the Biñan Football Stadium which saw Stallion Laguna lift the trophy through a 2-0 win in extra time. While there were notable absences in both camps due to national team duties, it showed a glimpse of what we will see tomorrow.
With the head coach Ernie Nierras still at the helm, Stallion Laguna would look to impose itself in the league as one of its perennial powerhouses and veer away from their habit of dwelling in the middle of the standings for the past few UFL seasons. Captain Ruben Doctora would lead a youthful Stallion squad that boasts a couple of UAAP stalwarts in its ranks, with the signing of Jhanjhan Melliza (FEU) and maintstay Fitch Arboleda (UE).
Meanwhile, Meralco Manila, having relocated the capital after initial negotiations with Taguig broke down, are hoping they could build on a decent third-place finish in UFL's last season, with the Younghusbands taking the lead for the newly-minted capital club.
Centre-back Milan Nikolic (ex-Global) and former GAU midfielder Alvin Sarmiento lead the newcomers for gaffer Aris Caslib.
Prediction: It definitely will be a tasty affair between both squads but I can see it ending in a high-scoring stalemate, considering the sheer power of their attacking prowess. 2-2.

MAY 7


Ilocos United vs Davao Aguilas
Quirino Stadium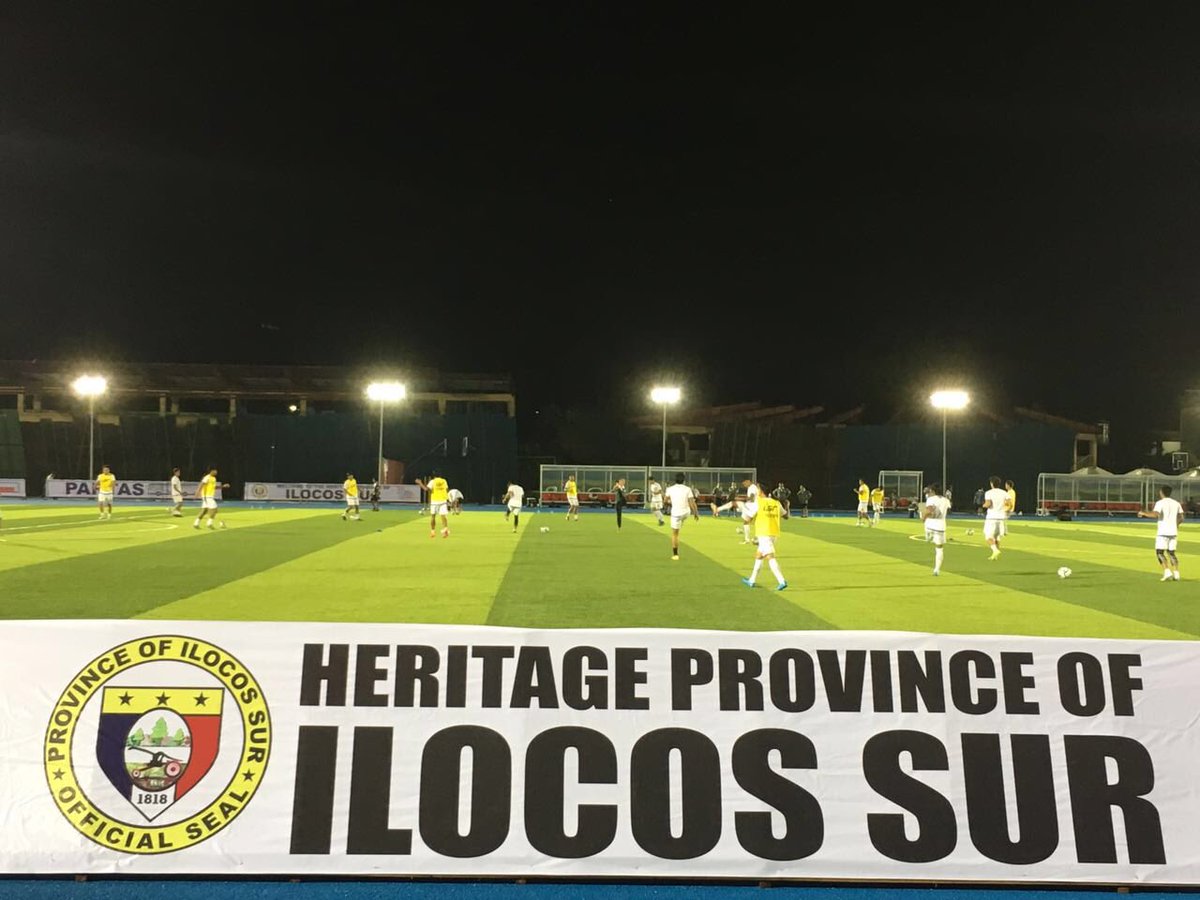 Football will go North on Sunday, as Ilocos United face Davao Aguilas (c/o Ryan Fenix)
As early as the second week of the season, the two newcomers will immediately lock horns, looking to send a message to the rest of the league that they are serious with their business and that they will be no pushovers.
Coming off a week-long training camp in Singapore, Davao Aguilas will visit the cradle of the North, hoping to get all three points in what is poised to be an interesting match between clubs that would want to impose themselves right off the bat.
Looking at the composition of both squads' official lineup, it looks like Ilocos United has a more formidable side on paper. With Anton Del Rosario inhibiting the captaincy, the likes of U-22 Azkals John Kanayama, Kenny Uzoka, and Dominic Del Rosario, along with UFL veterans Graham Caygill (formerly of Loyola) and Angelo Marasigan (Loyola, Pasargad, Ceres), are up to prove their worth in the league.
Meanwhile, Davao Aguilas' squad are highlighted by the inclusion of fellow U-22 stalwarts since the team owner, Jeff Cheng, is also the manager of the U-22 Azkals and a couple of new faces in Filipino-Belgian Dylan De Bruycker and Trinidadian striker Darren Mitchell. UFL veterans Nate Burkey (formerly of Ceres) and captain Jason Cordova will look to add experience in a very young team.
Prediction: This will definitely be a scrappy affair to say the least. But Ilocos will take it by the slimmest of winning scorelines.
JPV Marikina vs Global Cebu
Biñan Football Stadium
JPV will have to open their season more than 45 kilometers away from Marikina. (UFL photo)
Like the Busmen, Global Cebu is coming off an even more impressive AFC Cup stint that also earned them a spot with Ceres in the zonal semifinals, a run that included a 3-2 shock win over 2015 AFC Cup champions Johor Darul Ta'zim of Malaysia.
What makes it even tougher for JPV Marikina is that they will face Global on neutral grounds since their home field, the Marikina Sports Park, is still undergoing repairs.
Global's fantastic form is mainly founded upon an in-form attack with Japanese duo Pika Minigeshi and Shu Sasaki marauding in the flanks and striker Darryl Roberts; all of these despite having their star striker Misagh Bahadoran in the sidelines due to an injury.
JPV Marikina will look to build on their reputation as dark horses after a surprise campaign in the UFL last season in which they finished a reputable 4th, that included upsets of Ceres and other traditional powerhouses. That fantastic league performance was built on a solid defense led by centerback-pairing of captain Masaki Yanagawa and Camelo Tacusalme and an unforgiving counterattack.
Prediction: 3-1 Global Cebu. Fatigue will not be a factor after
Wednesday's win in their final AFC Cup group match
.
Follow him on Twitter:
@ferdinsanchezz